URBED's re-imagining of Andressey Passage in Burton has featured in the Derby Telegraph, with local businesses nearby welcoming the plans which they say could improve the area vastly. In 2009, Andressey Passage featured on BBC's Crimewatch, but the heritage asset has the potential to become a hidden gem, much like the Shambles in York or Tudor Row in Lichfield.
As part of the proposal for creating better links between the High Street and the Washlands, a sequential upgrade of Andressey Passage was explored.
1. The cut-through currently sits hidden next to Nationwide, with little announcement of its presence, or the green oasis lying beyond. The first visual looks at DECLARATION of the Passageway, using colour, flowers and  bold signage used to draw the passer-by's attention, and encourage them inside.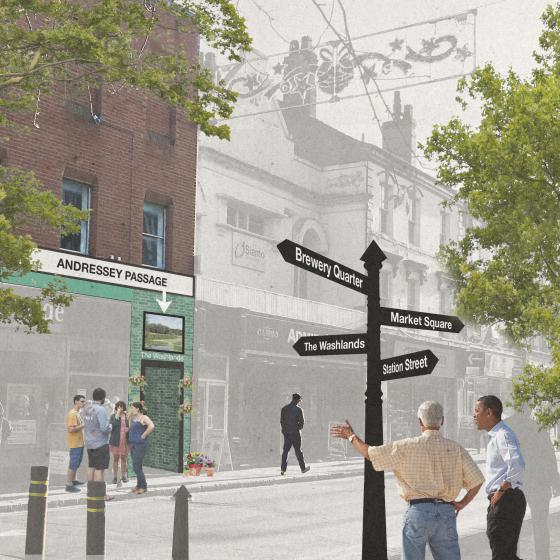 2. Presently, the alley is unappealing and lacks life and vibrancy. Narrow linking alleys have been put to much better use in Lichfield (Tudor Row), York (The Shambles) and Brighton (The Lanes). Here, surrounding shop windows open onto the alleyway, seating is set out and bunting and plants strung between walls to create a winding passage of curiosity. This visual explores DECORATION of the Passageway, and suggests artwork on the walls – showing L.S.Lowry's 'Level Crossing' which was painted in Burton-upon-Trent.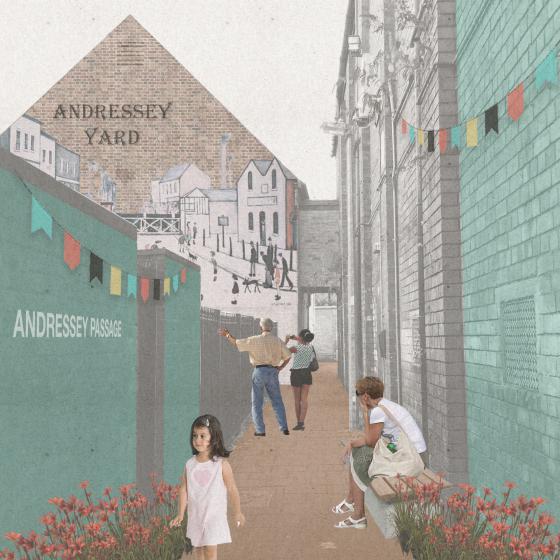 3. The third visual depicts ACTIVATION of the space, focussing on the end closer to the Washlands, with Andressey Passage opening into Andressey Yard – which could be an outdoor café space nestled amongst the old buildings. The Passage is activated with shopfronts and attractive planting, and becomes a hidden gem to discover along part of a new tourist trail.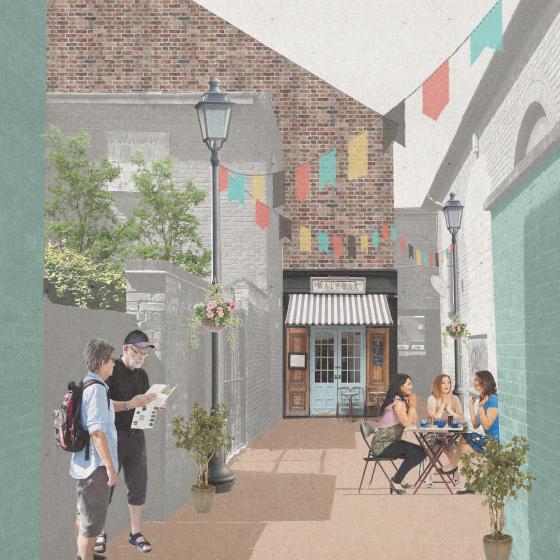 4. The final view depicts CONTEMPLATION: the visitor stepping out of Andressey Passage and arriving at the view of the Washlands beyond. Bold signage should continue to be used on this end to draw people onwards to explore some of Burton's other assets and facilities.